Is anyone out there still checking this poor, poor, neglected blog? We have been slacking big time, but I am here to give you a simple, delicious dinner recipe. Lucky for me I actually looked at the back of the
Campbell's
Cream of Chicken Soup can when I was making dinner and decided to tear off this recipe for future reference. We tried it out at my mom's house when both Candice and Mindy were there and we were all fans and definitely thought it was worth sharing with you--just in case you had never tried it before! So, here goes!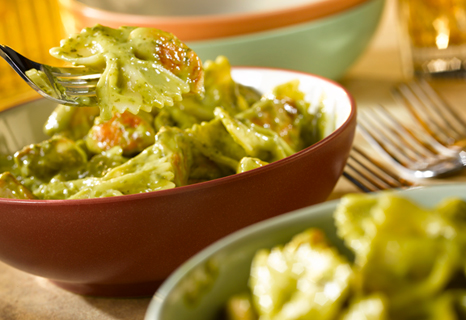 You will need:
2 Tbs. butter
4 chicken breasts (cut into cubes)
1 can (10 3/4 oz) Cream of Chicken Soup
1/2 C. pesto sauce (I just bought a small jar by the pasta sauces)
1/2 C. milk
3 C. bow tie pasta, cooked & drained
**Heat butter in a skillet over medium-high heat. Add chicken and cook until well browned.
**Stir soup, pesto sauce, and milk in skillet and heat to a boil. Reduce heat to low. Cook 5 minutes or until chicken is cooked through.
**Stir in pasta and cook until mixture is hot and bubbling.
There ya have it! Quick, easy, and delicious!!