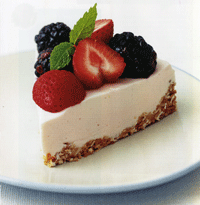 (image found here)
One day my I owed my friend Marnie a HUGE favor--when don't I?! If you know either of us, you know she is ALWAYS doing something nice for me and I am ALWAYS in debt to her! Her payment? Cheesecake, homemade cheesecake was her demand. Demand? Yes! I went in search of the perfect, most divine cheesecake recipe I could find, so I went to my "Betty Crocker" of a sister and she hit the nail on the head! One bite and we were all smitten with this creamy, delicious concoction! So it's not low on calories, it is so good you won't even care!
Crust:
2 1/2 C. graham cracker crumbs (20ish rectangles)
1/3 C. sugar
1/2 tsp. cinnamon
1/2 C. butter (melted)
**Stir together dry ingredients. Add melted butter and press into the bottom of a spring form pan and 2 inches up the side. Bake at 350 for 5 minutes. Remove from oven and reduce heat to 325.
Filling:
3 8 oz pkg. Cream Cheese--softened (1/3 less fat works too!)
1 1/2 C. sugar
1 tsp. vanilla
4 eggs (separated)
**Beat cream cheese, sugar, and vanilla until smooth. Add egg yolks and beat on low. In separate bowl beat egg whites until soft peaks, fold into cream cheese mixture. Pour into crust.
Bake 1 hour or until knife comes out clean in the center. Cool 10 minutes, run knife around the edge and cool 1 hour longer.
Topping:
1/2 C. whipping cream--whip
Then add:
1/2 C. sour cream
2 T. sugar
1/2 tsp. vanilla
**Spoon over each slice and top with berries!