So, this morning my husband asked me if I could make him Egg Nog waffles. I told him I never had, but that I'm sure Google could help me out with that! So off I went to search, I picked the first recipe that came up because a) it sounded easy and b) it had pretty good reviews. After making the first waffled and snitching off a corner of it I thought it wasn't very Egg Noggy, and duh, if I'm going to eat a waffle with Egg Nog in in it, I want to taste the Egg Nog! Since I was making regular pancakes for my kids (aka pannycakins) I decided to add a little bit more Nog to thin my batter and throw some on the griddle, the results were Mmmm-mmmm GOOD! We decided that was a better way to go! Add a little butter and powdered sugar and you're in for a treat!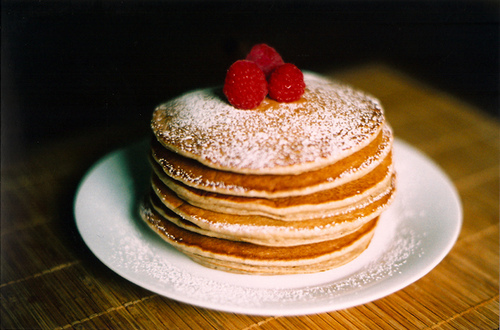 (I found this recipe
here
and changed it a tad!)

2 cups flour
2 cups eggnog
2 large eggs - beaten
1 Tablespoons vegetable oil
2 teaspoons baking powder
1 teaspoon baking soda
1/2 teaspoon salt
(Optional: You can add a little bit of nutmeg and cinnamon to enhance the flavor!)
**In a large bowl, mix the flour with the baking powder, baking soda, and salt.
In a separate bowl, mix together eggnog, eggs and oil until well mixed.
Add wet ingredients to dry ingredients. Mix until smooth.
Cook waffles in well-greased preheated waffle iron according to manufactures instructions or add a little bit more Egg Nog to thin the batter and turn them into pancakes!

Serve with butter and powdered sugar.