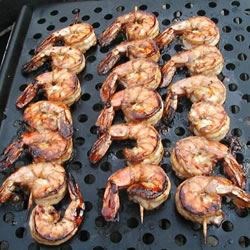 (Picture taken from here)
This is not one of those everyday, grab stuff from the pantry, throw something in the oven, kind of dinners. This is something that I make for a special occasion and man do they Rock! I made these for Christmas dinner at the Howes' and they were a big hit. If you happen to be crazy for shrimp like 3 of the 4 Howe girls are then you must try these!
1/2 tsp. garlic powder
1/4 tsp. ground black pepper
1/3 c. Worcestershire sauce
2 T. Italian salad dressing
2 T. water
1 lb. large shrimp, peeled and deveined, with tails on
In a large Ziploc bag combine garlic powder, black pepper, Worcestershire sauce, salad dressing and shrimp, and toss to coat. Refrigerate for 1 hour. Thread shrimp onto skewers piercing once near the tail and one near the head. Discard remaining marinade. Grill shrimp on med-high heat turning every 2 minutes until pink and done. While grilling brush both sides liberally with glaze.